The Roofing Alliance hosted its seventh Construction Management Student Competition. Due to the pandemic, we conducted the competition virtually.
Six teams competed in our 2020-21 Construction Management Student Competition—one was a new school. The schools that participated were:
Auburn University, McWhorter School of Building Science, Auburn University, Ala.
Team members from left to right: Logan Bozeman, Walker Lott (team captain), Libby Reid, Joey White (alternate) and Steward Wilkes; faculty coach is Associate Professor Junshan Liu; team mentor is Paige Harvill, Nations Roof LLC, Mobile, Ala.
California Polytechnic State University, San Luis Obispo, Calif. — New
Team members from left to right: Shay O'Laughlin, Ryan Proctor (captain), Chloe Riddlespurger (alternate), Jane Runte and Shaina Suanico; faculty coach is Dr. Jeong Woo; team mentor is Rudy Gutierrez, Shell Roofing Solutions, Chino, Calif.
Clemson University, Clemson, S.C. —Finalist and First-Place Winner

Team members from left to right: Allison O'Toole, Declan Fay, Hendrix Smith (alternate), Luke Skertich (captain), and Hannah Smith; faculty coach is Dr. Dhaval Gajjar; team mentor is Will Fort, Bone Dry Roofing, North Charleston, S.C.
Colorado State University, Fort Collins, Colo. —Finalist and Second-Place Winner
Team members from left to right: Kendall Carter, Terry Copperman (alternate), Joshua Houser (captain), Jacob Scheider and Mackenzie Voshage; faculty coach is Nicholas Rubino; team mentor is Kent Nelson, Front Range Roofing Systems LLC, Greeley, Colo.
Texas A&M University, College Station, Texas —Finalist
Team members from left to right: Bryce Sniderwin (alternate), Collin Rosser(captain), David Hermann, Graham Eldridge, Kyler Hardison; faculty coach is Lance Simms; team mentor is Mark Standifer, King of Texas Roofing Company LP, Grand Prairie, Texas.
University of Florida, Gainesville, Fla. —Finalist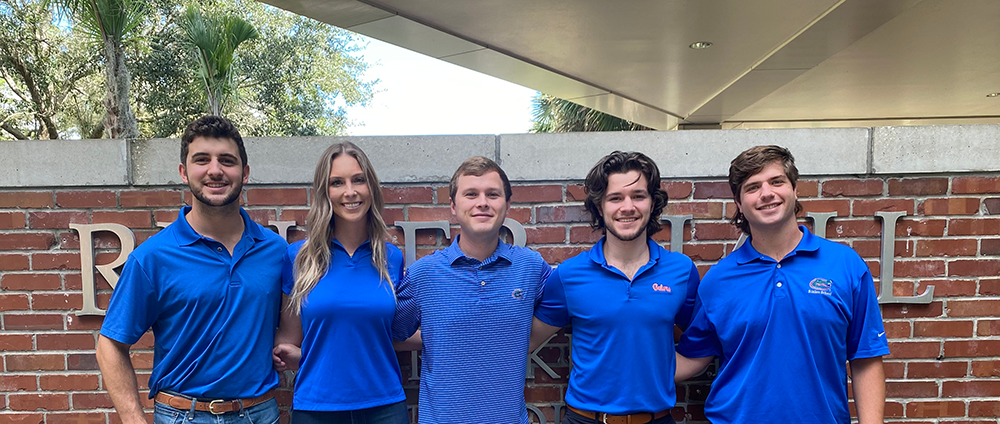 Team members from left to right: Garrett Spicola, Ansley Spofford (alternate), Collin Galinas (captain), Kyle Mueller and Bobby Swentkofske; faculty coach is Jim Sullivan; team mentor is Rob Springer, Springer-Peterson Roofing + Sheet Metal Inc., Eaton Park, Fla.
We thank all of the Roofing Alliance and NRCA members who served as team mentors. Mentors serve as a resource guiding the students and faculty through the project/process, answering questions and educating the students about the different elements of the project, products, systems, etc.—to help them formulate their own proposals and on-site presentations. Typically, mentors have one or two face-to-face meetings with the team and faculty. If possible (but not required), mentors invite the team to their offices to meet their estimators and project managers and to a job site to give them perspective of a typical workday. But most contact will be virtual due to social distancing limitations imposed because of the coronavirus.
We want to thank Dennis Conway with Commercial Roofers in Las Vegas for providing the project for this year's competition which was the Las Vegas Raiders Indoor Practice Facility, Henderson, Nev.
From the roofing contractor's view point this project was bid as a Design-Bid project. This means that the selected roofing contractor was very much involved in the roof design with regards to materials and systems which were used in the project. The owners and construction manager on this project wanted the input of the professional roofing contractor with the design, schedule and safety of the project. In essence the selected roofing contractor was part of the team that was building this facility.
Time was very important as the Raiders' team needed to begin practice long before the NFL season began. However, quality and safety were of paramount importance as well.
The building's footprint for the roof was not a complex design. It was a functional design for the particular use of the building. It did have challenges for the roofing contractor that were important considerations as to who was selected for the project.
For this project, the roofing contractor was expected to include all roof insulation, the roofing system, sheet metal flashings along with other roofing related penetrations. No wall panels were a part of this project. The practice field was a pre-engineered building structure which was not included in the roofing package. However, the roof connections and flashings at the junctions of the other buildings to the practice field building were a part of this package.
The Raiders Training Center was awarded based on the total price and overall project approach which included presentation on the roofing system of choice.
The first component of the competition was the written proposal which was due Feb. 8, 2021. The judges then reviewed the written proposals and selected four finalist teams.
This year, due to the coronavirus, the finalist teams gave their oral presentations virtually in April 2021.
The teams were judged on the overall quality of their written proposals, project management and organization; feasibility of construction and program schedules; accuracy/feasibility of conceptual costs; quality of safety and quality control/quality-assurance plans; supplemental materials; overall quality of their virtual presentations; feasibility of project management, organization and schedule; accuracy and completeness of project costs; and answers to questions.
Awards
1st place team - Clemson University
A team trophy and a $5,000 L. B. Conway scholarship for the winning school
Individual trophies
2nd place team – Colorado State University
A team trophy and a $2,500 Fred C. Good scholarship for the winning school
Individual trophies
First place Best Individual Student Presenter – Allison O'Toole, Clemson University
$300 American Express gift card
Second place Best Individual Student Presenter - Joshua Houser, Colorado State University
$200 American Express gift card
All winners were:
Recognized in press releases sent to local and national media and roofing industry trade press
Acknowledged in Professional Roofing magazine
Are listed on the Roofing Alliance's website
Questions about the competition can be directed to:
The Roofing Alliance
10255 W. Higgins Road, Suite 600
Rosemont, IL 60018
Bennett Judson (847) 299-9070, ext. 7513; bjudson@roofingalliance.net
Jessica Priske (847) 299-9070, ext. 7517; jpriske@roofingalliance.net