The Roofing Industry Alliance for Progress hosted its second Construction Management Student Competition.
We had three participating teams: Auburn University, Auburn, Ala.; Louisiana State University, Baton Rouge; and University of Florida, Gainesville. Three of the 12 students participated in our 2015 competition!
Auburn University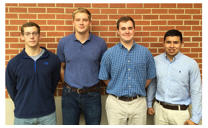 Left to right: Jim Johnson, Grant Dohrenwend, Ben Coode, Oscar Iniguez
Louisiana State University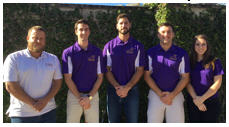 Left to right: Aaron Cherry, Tucker Attaway, Blake Johnson (alternate), Nate Duxbury, Meghan Brunet
University of Florida

Left to right: Eddie San Juan, Nick Loewenthal, Caleb Strauss, Drew Winant
The teams were asked to bid on installing a roof system on the Orange County Convention Center in Orlando, Fla.
Teams had to submit written proposals and all supporting documents in December 2015. The second part of the competition was the oral presentation before a panel of judges (acting as the general contractors selecting the roofing contracting company to hire), which took place during NRCA's 129th Annual Convention and the 2016 International Roofing Expo® in Orlando. Each team had a maximum of 15 minutes to summarize its proposal and management concepts. The judges then conducted a brief question-and-answer period following each presentation.
Following the program, the teams had the opportunity to meet with representatives from Springer-Peterson Roofing and PCL Construction Services Inc., the roofing contracting company and the general contractor involved with the project. Then, the teams went on the roof of the convention center to see the actual work that had been performed.
The winning team was from the M.E. Rinker, Sr. School of Building Construction at the University of Florida, Gainesville. The team developed a reroofing proposal that included a new mechanically attached standing-seam aluminum roof system with self-adhering underlayment on one roof area and PVC roof systems with polyisocyanurate insulation and DensDeck cover boards on the remaining 15 roof areas.
Everyone involved once again believed the competition was successful. Feedback will continue to be used to improve upon future competitions, which will once again be open to other construction management schools interested in participating.
Next year's oral presentations will take place Thursday, March 2, at the Mandalay Bay Convention Center, Las Vegas. Details for the Alliance's Third Construction Management Student Competition will be available in August.
2016 Alliance Construction Management Student Competition Winning Team — M.E. Rinker Sr. School of Building Construction at the University of Florida, Gainesville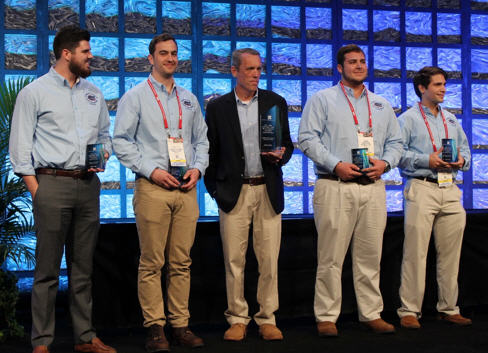 Left to right: Drew Winant, Nick Loewenthal, James Sullivan (faculty advisory), Caleb Stauss and Eddie San Juan (team captain)
If you have questions, please contact:
Bennett Judson
The Roofing Alliance
10255 W. Higgins Road, Suite 600
Rosemont, IL 60018
(847) 299-9070, ext. 7513
bjudson@roofingalliance.net